"Belle doesn't feel like our PR agency, they feel like they are a part of our team. They have not only elevated our external image, but our entire marketing and advertising strategy. It's very difficult to do paid, earned and shared media well without external help. Belle provides us with that help in a professional, purposeful, strategic, and intelligent way."
Regan Reilly, Marketing Director, Ricart Automotive Group
0

+EARNED MEDIA
OPPORTUNITIES
0

MMEDIA + INFLUENCER
IMPRESSIONS
0

%INCREASE IN
MEDIA MENTIONS YOY
They've been dealin' for 67 years, but Ricart Automotive had a story to tell beyond Mustangs and Mitsubishis. In 2018, our team jumped in as co-driver, charting a new course to elevate the brand as #1 in the nation for used automotive sales, innovation and culture.
Ricart moved into a new era of auto dealerships - one that was progressive, genuine, community-focused and fun (like driving at the limit, fun).
Creative strategy
National, trade + local earned media
Speaking + awards
Influencer relations
Social media strategy
Social media content creation + management
Rebrand strategy + rollout for brand acquisition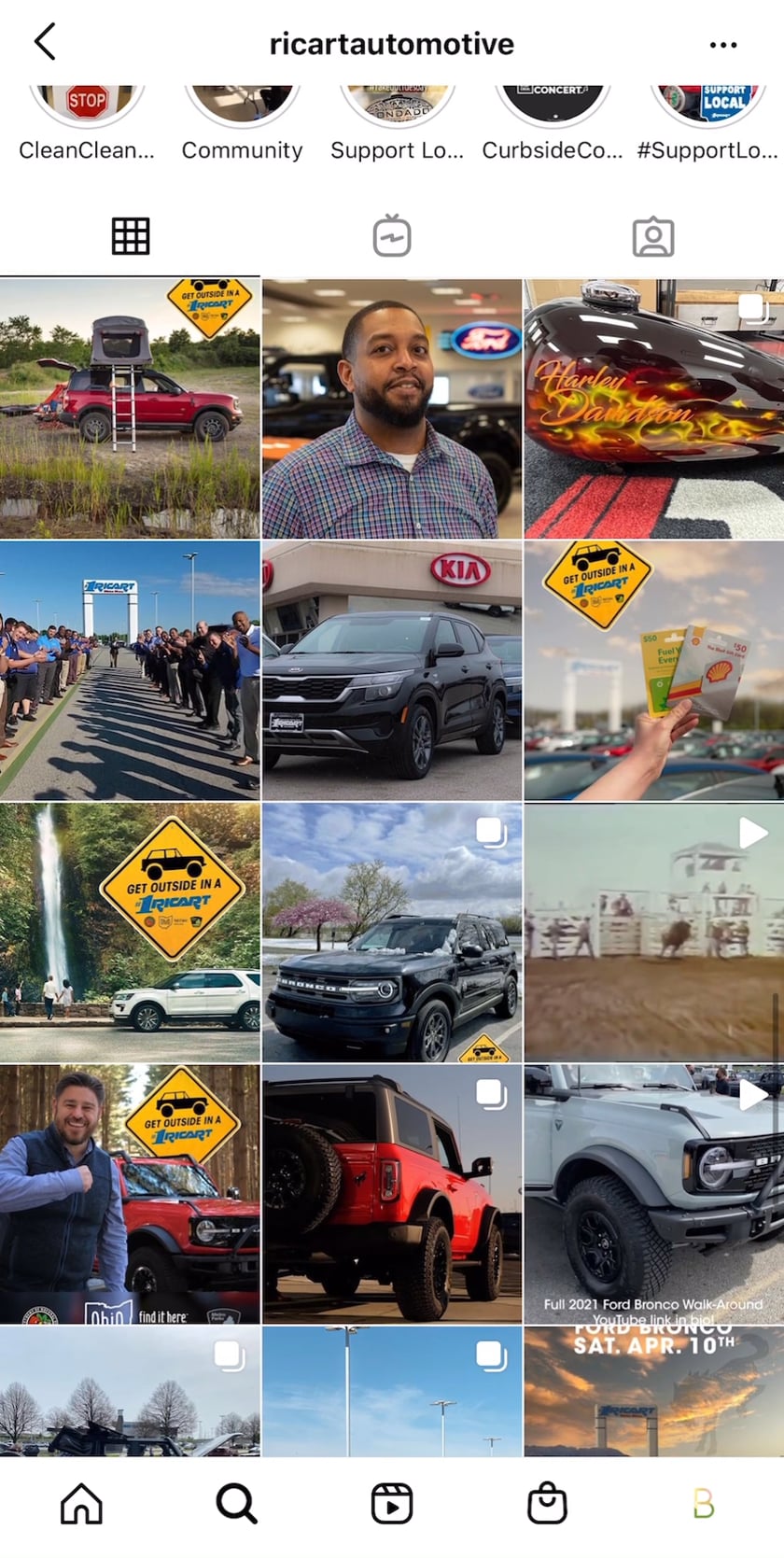 In 12 months, Ricart Automotive was known for much more than being the 72-acre-mega-mall off Route 33. The brand shifted gears and evolved as a leading dealership that fuels workplace culture, generates community impact and drives the industry forward through sustainable innovation. OK, we're done with the car references now.
INFLUENCER SUCCESS:
SPARKLE DAYS
Goal: Partner with Columbus-based influencers to promote Ricart's Sparkle Day offering - a full car detail complete with pick-up, drop-off + loaner vehicle services.
22 niche partners across central Ohio
47 social posts
1.1MM impressions
SOCIAL MEDIA SUCCESS:
STRATEGY
Goal: Assess Ricart's current social media presence against the backdrop of the automotive industry and its competitors to uncover opportunities to kick the brand's online presence into overdrive.
We delivered Ricart a comprehensive social media strategy that drove business goals by more effectively highlighting the brand's fun, innovative, community-oriented and customer-focused personality through dynamic, captivating content. Ricart quickly revamped its brand voice and image on social and used a relationship-first approach to increase Facebook impressions by 2,490%, grow its Facebook engagement rate by 195% and increase total Instagram profile actions by 97% YOY.
Farrow rebrand + strategy rollout
After acquiring the famous Farrow Harley-Davidson, Ricart Automotive brought our team in to ensure a collaborative, thoughtful merger of the two brands. We brought in ZoCo Design from our strategic network, as we guided all parties through the re-brand, from brand concept and design, to messaging and final marketing deliverables. Taking into account their loyal audience, we crafted communication plans that met their needs and built excitement with coverage in local and trade publications.